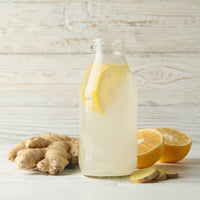 Invigorate your life!
...with ging-ë-lems. Frozen, organic ginger and lemon juice drops. A pure, simple and refreshing blend.
Individually packaged into 0.5oz servings. 15 servings per bag.
Why ging-ë-lems?
Because life is good when you can make an ordinary beverage extraordinary with ging-ë-lems! Add one frozen drop to every 10 oz of water, seltzer, tea or any beverage. Serve hot or cold for a soothing or refreshingly delicious drink. No sugar or sweeteners added. If inclined, customize ones own blend with honey, stevia, mint, etc... Ginger and lemon, taken daily, have many health benefits and can now be made easy with ging-ë-lems. Start craving the need and feed the crave with ging-ë-lems today!
Benefits of ginger:
Anti-microbial, anti-inflammatory, anti-nausea, anti-viral, anti-fungal, natural pain killer, aides digestion, lowers cholesterol and blood pressure, boosts circulation, spikes metabolism, regulates blood sugar, cuts sugar cravings, appetite suppressant, lessens pre-menstrual and post-menopausal symptoms, promotes hair growth, energy and mood elevator. 
Benefits of lemon:
Stimulates metabolism, high in vitamin C, antioxidant, improves cardiovascular health, liver cleanse, alkaline, bright and blemish free skin, maintains hydration while being a healthy diuretic, also an energy and mood enhancer.
What people are experiencing from drinking ging-ë-lems daily:
Increased water intake because ging-ë-lems makes water so tasty! Clean energy, clearer and brighter glowing skin, reduces itchiness, mood elevator, less bloating, thicker hair, healed nail fungus, appetite suppressant and an overall feeling of well-being, to name a few.
*ginger has blood thinning effects that can be great for most people. For those with bleeding disorders, pending surgery or taking certain medications, consult your doctor before drinking ginger juice.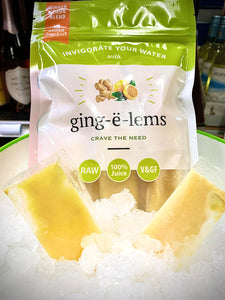 More or less, you choose.
Conveniently sized ging-ë-lems for individual tastes.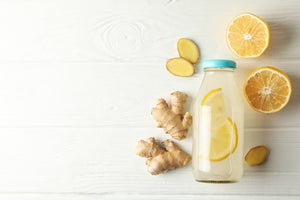 Spa in a bottle.
Drop ging-ë-lems into your cold beverage and feel instantly refreshed!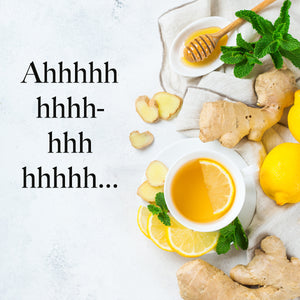 Soothing warmth
Add ging-ë-lems into any hot beverage for a soothing drink!
*The statements made on this website have not been evaluated by the FDA (U.S. Food & Drug Administration). The products sold on this website are not intended to diagnose, treat, cure, or prevent disease. The information provided by this website or this company is not a substitute for a consultation with your physician and should not be considered as medical advice.